Including what is perhaps the most famous island in Scotland, the area of Skye and Lochalsh needs no introduction. Renowned for its dramatic mountain scenery, rich history and attractive coastlines the area also includes a number of towns and villages with a range of attractions, from award winning restaurants to great live entertainment. Whether you're searching for your dream cottage close to the mountains, or a modern suburban home you'll find an inspiring range here.
Skye and Lochalsh includes the famous Isle of Skye, which sits just off the west coast of Scotland, and the area of Lochalsh, to the east of Skye on the mainland. The population stands at around 12,000.
Much of the population is spread in rural areas. Portree in the north of the Isle of Skye is the largest town with a population of over 2,000, other significant settlements include Broadford, Dunvegan and Kyleakin on the Isle of Skye, and Plockton, and Kyle of Lochalsh on the main land. There is also a rail connection from Kyle of Lochalsh to Inverness, one of the most beautiful railway journeys in the world.
The Isle of Skye is linked to the mainland by a road bridge at Kyle of Lochalsh, which is a 45 minute drive from Portree, an hour from Dunvegan. From Kyle of Lochalsh to Inverness is just under 2 hours journey time (via the A82 and A87). Edinburgh is around 4 hours drive (via the A9) and Glasgow is also around 4 hours drive (via the A82 and A87). There are also ferry links from Skye to Mallaig on the mainland, and to the Isle of Harris and North Uist.
Skye and Lochalsh is famous dramatic mountain scenery and beautiful coastland, with many considering the Black Cuillin on the Isle of Skye to be the most stunning mountain range in Britain. As well as being a paradise for outdoor activities and nature lovers the area boasts a number of attractions which will interest both visitors and locals, including Colbost Croft Museum near Dunvegan, Talisker Whisky Distillery in Carbost, or the world-renowned The Three Chimneys restaurant, among others. The world famous Gaelic college Sabhal Mòr Ostaig is located on the Isle of Skye, since its foundation in 1973 it has played a crucial role in the renaissance of Gaelic in Scotland.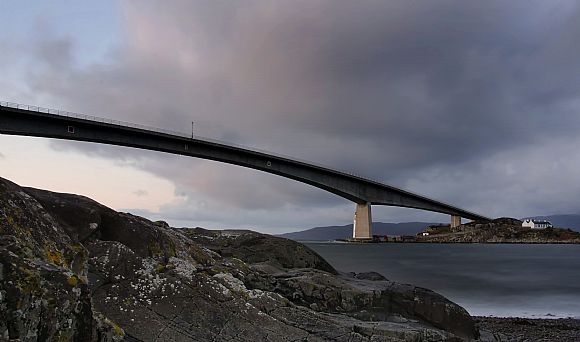 The history of Skye and Lochalsh is bound up with the clan systems of the Highlands and Islands, for a long period the Isle of Skye was dominated by Clan MacDonald and Clan MacLeod. The area still has a significant number of gaelic speakers today. After the defeat of the jacobite uprising at Culloden in 1746 and the subsequent breaking up of the clan system and clearances the population declined in the following centuries. More recently the population has shown an increase as more people are aware of the lifestyle benefits of living in the Highlands.